Spelling Bee Winners

The twelve Spelling Bee class winners took park in the grand final last week, in front of a packed hall.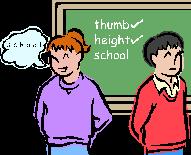 Oliver Lewis from the lower school and Arianna Margetts from the upper school were the 2 winners of our spelling bee competition. Twelve children were crowned class winners and then had a spell-off in front of the whole school. Tensions were running high and nerves were frayed as word after word was spelt correctly. Eventually, Oliver and Arianna came out on top. Top spelling!